Dismayed by my datelessness as Valentines Day approached, I decided to reaffirm my masculinity by going skiing this weekend. Sharing a romantic campfire with another man did the trick.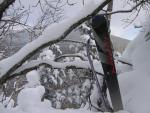 I left early Saturday morning for the drive to Cannon with Yeuhi. Like on most of my MITOC trips, I'd never met him before, but we settled into a rhythm quickly. We met some other folks at Cannon, and enjoyed the bluebird day. The snow was fair, but my new skis were sweet. My legs were shot by around 2, so I headed to the deck for a drink in the sun. Not a bad way to end the day.
Leaving Cannon, we headed to Camelot to stay the night. We had planned on meeting Martin, a keyholder, there; but he didn't arrive until after 9. We started a fire, and enjoyed the flickering warmth and polished off a sixpack of Sam Adams. Alcohol is a vasodilator, and so non-ideal for really cold weather, but it hit the spot and made the time pass more enjoyably.

Woke bitterly early on Sunday to drive to Jay. Met Chris and (another) Josh in the parking lot. We found the trailhead and skinned up two miles to Big Jay. It's right across an untracked valley from the ski resort, and it was full of the most powder I've ever seen in New England (3-4 feet). My legs burned by the end of the climb, and I had to remove my skis a few times and crawl upward on my hands and knees, enlisting the help of nearby saplings. Not the most dignified method, but it worked.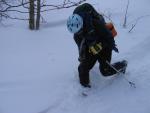 The descent was hairy for the first few feet, with tight trees and a steep drop. But after that it opened up, and we were in a maple grove as clear as any inbounds glade. The powder made executing real tele turns a little difficult, as bending my knee would force my skis deep under the snow. I feel over more than a few times, got snow down my pants, and enjoyed every minute of it. In the end, it was a lot of work for one run, but I was tired and happy at the end of the day. Ate dinner at the Common Man in Lincoln NH, and drove south just in time for the traffic at the tolls in Manchester. Stupid massholes, coming up north just for the weekend!