Arrived on Caye Caulker a few days ago, and have settled into the "go slow" vibe.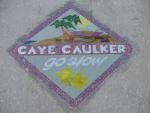 Took a Raggamuffin Cruise to Hol Chan Marine Reserve. Snorkeling by sailboat is definitely the way to go, because the whole day was completely relaxing. The guides were both skilled and laid back, and the rest of the passengers were young backpackers. When the sail wouldn't come down easily, the captain Jerry sent his first-mate Leban up the mast to fix the problem. (picture forthcoming) Climbing twenty feet up a metal pole, bare feet to metal, Leban his unforeseen duties in stride and came down smiling. Cheers from the passengers, and we were underway.
Stopped at Shark and Ray Alley, where the animals swarm with the expectation of food. Some people tossed watermelon rinds overboard, but the nurse sharks were more interested in each other than our fruity refuse. Saw large grouper, tarpon, and a school of spotted eagle rays. There was a short swim-through underwater cave that Eric attempted, but his flipper fell off just as he was about to enter, forced him to abort. Also stopped at Channel Cut, and a coral garden, where there were fewer large fish, but it was almost more interesting to see the complete ecosystem functioning together. Returned with our feet hanging over the side, enjoying the sunset. I decided then and there that I must one day own a yacht. Early retirement, here I come!
We had a nap after returning from the boat, exhausted from the swimming and the sun. Went to Habaneros for New Year's Eve dinner. Excellent food and atmosphere; the best on the island. Had great ceviche, lobster stuffed snapper, seafood curry, and margaritas all around. Went down the main street to Sobre Las Olas for some live music as we tried to stay awake until midnight. The main party at the Oceanside Disco was far too crowded, and the music was terrible. Got cheaper beer and better service at the chinese market next door, and enjoyed the street scene. As midnight approached, the island's sole firetruck drove through town, siren blaring. Everyone cheered, and a few fireworks sputtered toward the moon. Not exactly Times Square, but everyone was enjoying themselves and it fit perfectly with the town's culture. Wished perfect strangers a Happy New Year, and walked up the beach toward bed, exhausted at 12:30.