At the Innovations in Mobile Data Collection for Social Action in Iraq and the Middle East conference.
We started off by asking questions about when and where mobile or distributed data can make a difference in a rapidly rotating roundtable. Projects I've learned about at and through the center were helpful here, but the experience of field workers was much more instructive. Further questions on the conditions that best support gathering this data yielded some good war stories. Central issues include the technical literacy of the field workers, whether the tool is deployed on externally provided phones or "in the wild", the tradeoff of message syntax vs cost, how to develop incentives for participation, and the privacy of messages sent to shared or village phones. This was just a taste of the experience that user deployment provides, but was enough to make this technologist's heart sink. The real world is so much messier than the lab…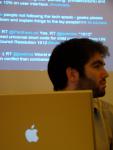 I didn't end up giving an Ignite talk due to a mis-scheduling, but gave demos of VirtualGaza and GroundTruth to interested and engaged crowds. There was some interest in setting up similar systems in various places, and much curiosity about how I can do this political work in an academic context. A good question, and one for which I don't have a good answer.
Members of the government of Iraq are here, and much of the discussion was initially aimed at helping them as best we can. However, they appeared to have decided that they have internal issues to address before talking to developers, so the conference took a turn for the technical. I'm a little disappointed, as part of the appeal of coming to this conference was to learn about the issues that face the people on the ground. However, I understand that the Iraqi delegation may not have other opportunities to meet and talk about their shared goals. In any case, now it's a meeting of technical and experienced international development people, not an attempt to solve the issues facing one country.
Went out to an amazing Lebanese dinner. Katrin said she ordered the bare minimum course menu, but still the food kept coming until we had to beg them to stop. We first sat down to a table of mezze, which we failed to recognize as only appetizers. After eating more than enough, then the meat course came, followed by another meat course, and finally delectable knaffe. We rolled out stuffed, satisfied, and ready for another day.