Climbed Masada for sunrise, which was useful both for the kitsch factor and to preempt the blazing sun. Jared and I hiked quickly to beat the crowd to the top and enjoy the silence, interrupted only by our heaving breath. The climb was maybe a mile, but almost 500 vertical meters. Sunrise was gorgeous, and I got some excellent pictures. I toured the site alone, and then again with the rest of the group.
We hiked down, and then drove to the fresh springs at Ein Gedi. The cool water counted both as my bath of the day, and the washing of my clothes. There was a good natured algae fight, with only a few civilian casualties. Then to the Dead Sea, where we bought the healing black mud and slathered it on. Jared and I did swamp monster impressions, and we floated superman style in the warm saline sea. Despite warnings that the brine would sting any open wounds, my cuts didn't hurt too much.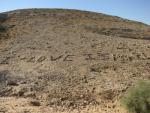 Then to the Bedouin tenting experience, which was as much minstrel show as cultural interaction. We discussed various military ethical situations with our soldiers, which upset Jared and Kali. Then we were thrown into a boot camp simulation, where we learned the joys of doing pushups on brokn glass and performing manual labor. We decompressed by drinking wine from the bottle under the stars and throwing rocks at the darkness.