Last day on the island, but what a day it was… Woke at 5:30, having slept terribly; checking every hour to make sure my alarm was still set properly. Got to dive shop at 6, on the water by 6:15. A little queasy on the ride out, but that was probably an artifact of my hurried breakfast as much as the choppy water. Saw several flying fish, popping out of the waves and skimming for as much as forty feet. Some even managed to turn in midair, aided only by their flippers. For future reference, Dana does a great flyish fish impression.
Got to the Blue Hole at 8, and the dive master reassured everyone that it would be an easy dive.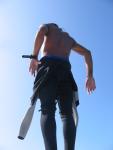 Although the depth was greater than any I'd ever experienced before, he was right. Quick descent to 80 feet, to the drop off, and then down to 130. There was a significant thermocline at 100, and I was glad to have a full length wetsuit. Saw clear down to bottom at 400 feet, Caribbean Reef sharks circling in the center of the caldera, and Dr. Seussian stalagtites. Had to ascend after only 8 minutes at depth, which was kind of disappointing, but necessary to avoid too much nitrogen. I didn't feel any narcosis, much to my dismay. While the total time was short, the sheer magnitude of the thing made up for it.
Lunch at Half Moon Caye, which alone was worth the price of the trip. This small island bird reserve felt like a tropical paradise. Saw the rare red-footed booby, iguana, coconut groves, and hermit crabs. Felt like Gilligan and the crew could have been just behind any palm tree.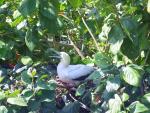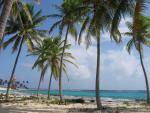 The last dive, dubbed the Aquarium, was the best. Crystal clear water, filled with fish swarming around, but never allowing themselves to be touched. Saw a pair of turtles, an eel out of his crevice, parrot fish, and grouper. Eric was snorkeling above, and he free-dove down 20 feet to meet me during my decompression stop. I offered him some air, but he demurred. Smart, for a man who owns Scuba Diving for Dummies.