Our guide, Luis Godoy, is the best I've ever seen. With no formal education, but a life spent on archaeological digs, he is a wealth of information and stories, and is able to spin a yarn to make the ancient sites come alive.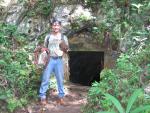 Che Chem Ha is the greatest collection of original Maya pottery in the world, and we toured it with the discoverer, William Pleytez Morales. Actually, his dog should recieve some credit; he found it by chasing a rodent into what appeared to be a solid rock wall. Uncovering the mouth of the cave, he explored it on his own, to the disapproval of his father. However, he did not disturb the offerings of his ancestors, and today pays them tribute by spreading the knowledge of their achievements.

We had an exceptional lunch at the Morales farm, the traditional rice, beans and the tenderest stewed chicken of the trip. Their house overlooks a tall waterfall, towering several hundred feet over the jungle floor. Because their land abuts a nature preserve, there have been jaguar sightings in the area. We asked Luis what would happen if we saw this majestic cat on the trail, and he told us we would "die with honor."
Later, stopped at Xunantunich for more ruins. Amazing what these people were creating out of stone when Europeans were living in sod huts. Their temples survived the ravages of two millenia, and stand today submerged in the jungle. It's like Arthur Conan Doyle's Lost World, only without the dinosaurs.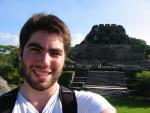 —
Edit July 20, 2009:
An article in the New York Times travel section covered the caves of Belize, saying that "Unless you're an archaeologist, you're never going to see sites like this." Glad I saw it before it hit the big time.