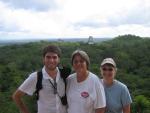 After seeing ruins at Caracol and Xunantunich, I thought I was ruined out. How wrong I was… Tikal surpasses both for sheer scale, and the sense of an ancient city lost in the jungle. The site was used as a standin for Yavin 4 in Star Wars: A New Hope. Looking off the top of one temple, you could just imagine spacecraft landing for a rebel award ceremony. Saw Howler and Spider monkeys playing in the trees, and nearly tame coatimundis.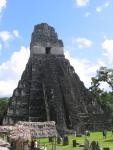 After lunch, bought a hammock. It will be perfect for lounging around in my future Cambridge digs. Got to Flores in the afternoon, and settled into a whole new rythym. Guatemala is much more Central American, not just because of the Spanish, but more hectic, less efficient, and clearly poorer. Catholicism and Spanish colonialism can do that to a country. Despite men with guns on seemingly every street corner, the people are very lively. Saw parades and vibraphone practices, with firecrackers bursting late into the night, with no discernable reason why. Surely it was some Saint's Day.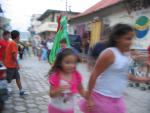 At sunset, watched a community basketball game. For small men, they were impressive players, and certainly quick enough to make it a fun game. Had dinner at La Luna, apparently an expat hangout, with a classy bar scene.