After saying goodbye to Lou, we drove south back to the coast, in a rented Suzuki Sidekick that seemed about to fall to pieces. There was a crack in the windshield that started at two inches long, that spanned the car by the time we were done. I thought I would die at any moment in a hail of glass. Stopped in Dangriga, and had an excellent meal at King Burger. Tried to see the Garifuna museum, to learn more about the unique freed slave culture, but it was closed. Hours here are seemingly at the whim of the proprietor. Spent the night in Hopkins at a place on the beach, and tried to hear local drumming, but it was preempted by a speech by Bush. Everyone at the local bar enjoyed jeering our President, and we surprised them by being reasonable Americans.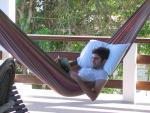 Left Hopkins and drove to Placencia on 30 miles of unpaved mud, ruts and potholes. Still, that doesn't stop the developers from building monstrosities for rich Americans. The town itself is smaller than Caye Caulker, but has a similar feel. Spent three days lounging in our hammocks at Saks Beach House, churning through book after book. Went to the Purple Space Monkey (silly name, decent food) to trade in my trashy scifi for John Le Carré spy novels. Nothing like reading about the Cold War on the beach, sipping Belikin beer.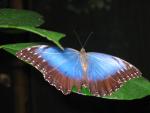 After Placencia, drove inland again to Jaguar Paw, for one last dose of jungle. Did a cave tubing trip, which was less adventurous than ATM, but still lots of fun. Got to see a wonderful butterfly farm, and learned more about lepidopteran breeding than I ever needed to. Also took a zipline in the canopy, which seemed sort of hokey, but was actually a blast. Not an educational experience persay, but lots of fun to fly through the trees.