Today we crossed the spectacular glacial channel and had our last landing on Antarctica. But we still have more cruising to go!
I woke up at 6am to fog and low clouds. The channel we are crossing is a popular photo spot, with steep glacial walls only 800 meters wide. The expedition leader Mike noted that this wasn't the great sunny weather we've been experiencing, but I thought the low clouds made the looming mountains even more impressive. I brought my wide lens specifically for this, and put it to good use getting a nice set of shots for a panorama.
Our first landing at Port Charcot was in choppy conditions and "a little spicy" but we brought our rain gear and dry bags to protect ourselves and the equipment. This was the site of a French expedition, and there is a cairn at the top of a hill which many of the guests went to go climb.
We opted instead for more time with the penguins, and then a zodiac cruise through an "iceberg graveyard." This is a shallow region where they wash up on the beach and melt slowly and spectacularly. I had my wider lens to try and take more artistic shots following the advice Tommy gave me, and Ruth had the big lens to get more penguin details. I took out the neutral density filter to try and get snow streaks, but didn't end up needing it. The tripod was useful for slower shutter speeds, and it did admirably in the wet snow.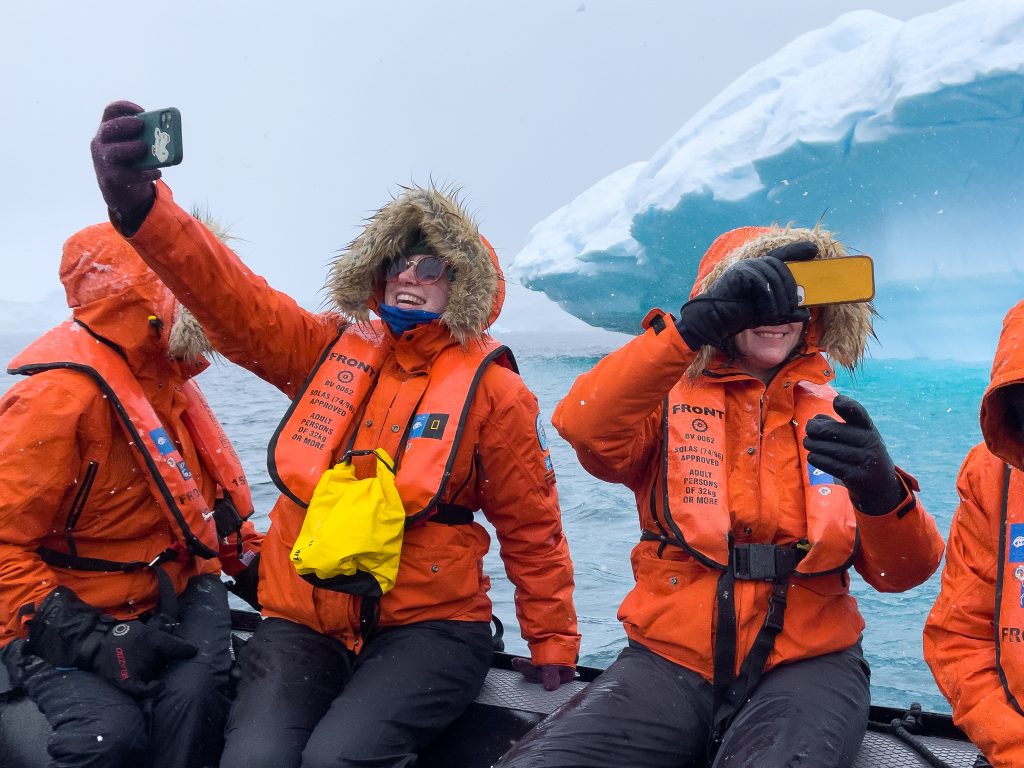 We got pretty chilled after the morning conditions, so took a sauna and a hot lunch, and then a nap before the afternoon landing at Petermann Island. This is home to another penguin colony, which actually had both gentoos and adelies as well as a few lost looking chinstraps. We got a few more videos of their silly walks, and tried not to interfere with their important business.
We are also near an Argentine base, where we had a short walk up to a viewpoint and across the bay to a huge tidewater glacier. I tried to keep my eyes on the landscape and out of the lens for my last landing on Antarctica, to try to save it as a sense memory instead of just digital photographs.
Saying goodbye to land for the next few days, we crossed back through the Lemaire Channel this time in better weather. We had a cocktail on the sun-deck, toasting to our voyage and the white continent. Then got another fabulous dinner, a talk by Jamling Tenzing Norgay about his father's exceptional life, and blissful sleep as we head back north.